Competition Winners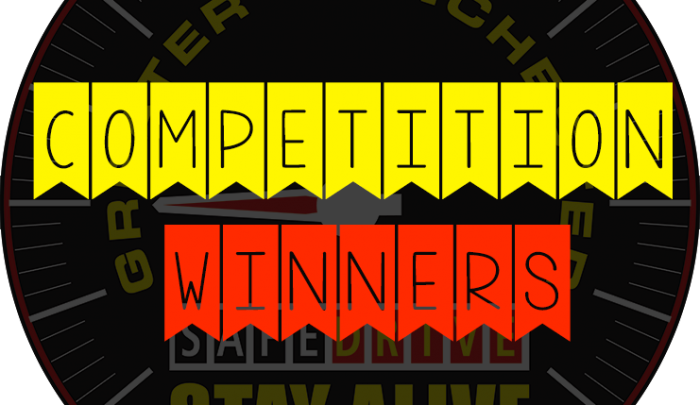 We are happy to announce that a Student from Wellington School in Altrincham won £350 in Apple Vouchers. The student took part in our Pre and Post Surveys held on GM Consult for last years delivery in November 2023.
Our competition to win a prize will return this year and all entries will automatically be taken from any pledge given on Twitter or Instagram and/or completion of the Pre and Post Survey.
We will be notifying all Schools/Colleges and groups on how they can take part in our competition soon.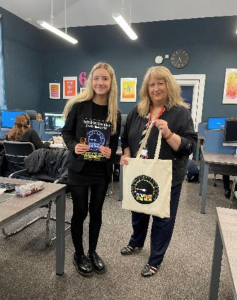 ---
Following our delivery last year (2022) and the completion of evaluation and pledges, we were pleased to announce our winner, a Student from the Deanery Sixth Form in Wigan. She won £350 in Apple Vouchers and made the following pledge.
"Always challenge the driver if I feel unsafe as a passenger, always ensure all safety measures are taken to ensure myself and any passengers are safe"
Ros Hopkins – Road Safety Development Officer & Station Manager Chris Evans from Wigan & Bolton Borough awarded the prize of £350 Apple Vouchers, along with a Safe Drive Goodie Bag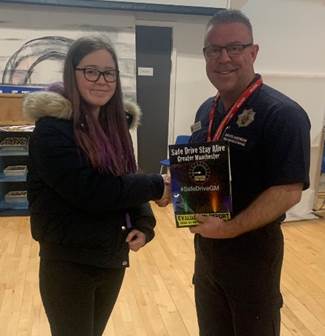 Our Evaluation following the completion of pre & post-questionnaires for Sept/Oct/Nov will be written by Dr Emma Dean (GMFRS Research & Evaluation Officer). This will be published and made available in November 2022.
---
Congratulations to Sam Bottomley, Age 17 from Crompton House School in Oldham for winning an IPad Air in our November 2019 competition. Sam was awarded his prize after entering our competition by sending us his road safety pledge:
"People should think about what is happening before you get in the car rather than once you are in it and also be careful and focus on the road and always listen to your passengers if they have an issue."
Thanks Sam, and everyone else who took the time to send us your thoughts after attending Safe Drive Stay Alive either via Twitter, Instagram or our online survey.
---
We are please to announce the our lucky winner from our March 2019 competition!
Bethany Roots, aged 18, a Graphic Design student from Tameside College was our lucky iPad winner for March 2019. In her pledge after attending one of our performances Bethany said:
"Always think about those who you love every day as you drive. Please (and I cannot stress this to you enough) do look after all passengers and yourself. Don't show off to try and impress someone because they will disrespect you for permanently ruining their and their families' lives. We have one life after all, and it's so short, so make it count by following this advice: Safe Drive, Stay Alive.

What I remember about safe drive is that there were lots of video clips and images that were very eye opening and it made me quite emotional and emphasised the dangers that I'm already aware of. I learnt everyone's perspective when an accident occurs and it's opened my eyes even more what everyone goes through.

When I learn to drive, I will make sure that everyone is strapped on safe. I will also make sure to be confident enough to ask the driver to slow down if I feel uncomfortable."
Thanks to Bethany and all at Tameside College for helping us make our first March performances a huge success.